Herbs from Ayurveda have been used for the care of hair and scalp for ages. They improve hair growth and have strong regenerating properties. Moreover, they stimulate blood circulation in the scalp and strengthen hair bulbs, thanks to which, strands grow stronger, healthier and stop falling out.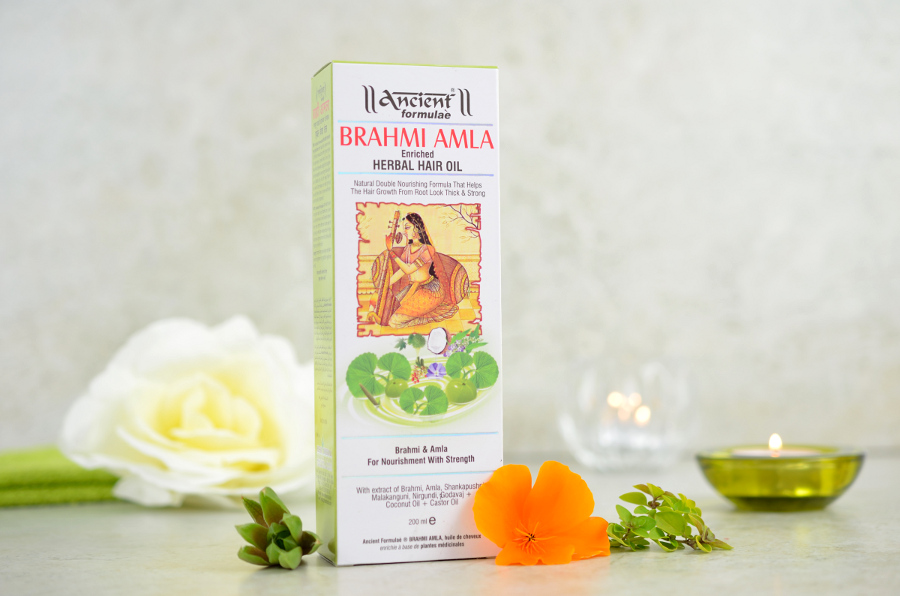 People who constantly try to grow their hair (unfortunately ineffectively), struggle with hair loss and chronic dandruff, should definitely reach for Indian products designed for hair oiling. They contain extracts of herbs known and valued in Ayurveda. Such products include hair oil offered by Hesh brand. 
It is an extract of Indian herbs, such as: brahmi and amla, which is also enriched with natural oils: coconut and castor. How does Hesh hair oil work?
Hair oil with brahmi and amla regenerates and nourishes intensively as well as give beautiful shine. Thanks to regular use, it will prevent premature greying, and hair loss. Additionally, amla extract is also known for the natural and gentle effects of darkening hair. Therefore, hair gains not only beautiful shine but also an intensive colour. What is more, even under the influence of sun radiation, the shade does not fade. Hesh oil with amla and brahmi makes wisps silky soft, pleasant to the touch, smooth, prevents tangling and facilitates combing and styling. The cosmetics protects hair from damage and negative effects of different weather conditions. Thanks to the extracts of Amla and Brahmi – it stimulates hair follicles which in consequence, boosts hair to grow faster.
Coconut oil contained in the Hesh product, regenerates minor damages in the structure of the hair. Brahmi will prevent hair loss, castor oil combined with sweet flag will enhance the shine, activate hair bulbs to work, prevent dandruff and other scalp diseases. The task of amla is to gently darken your hair colour, and restore the balance on the scalp. Hesh hair oil with amla and brahmi is enriched with a diversity of herbs that relieve tension and stress, soothe headaches and facilitate falling asleep.
Thanks to the Hesh product, your hair becomes stronger, full of radiance, grow healthy and the work of sebaceous glands of the scalp is balanced. Furthermore, amla and brahmi oils provides antibacterial and antifungal properties, thans to which, you can remain sure that your scalp is thoroughly cleansed and nourished. 
Hesh hair oil with amla and brahmi comes in a capacity of 200 ml. It is a product of runny consistency, therefore, you must be careful during the application (oil may drip for your wisps and stain your clothes).